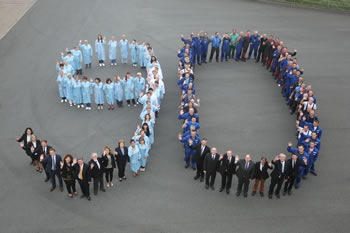 The story of Müller + Müller started in 1924 in the Thuringian Forest. Two brothers and their cousin had the idea and the courage to establish Müller + Müller. In the beginning glass bottles were formed with the bellows for the confectionery and beverage industry. At this time the company had already grown into a reputable operation. Due to the Second World War and the GDR the company got expropriated in 1945. Nevertheless, Albin and Hermann Müller never gave up. They had the idea to develop an automated production line for glass vials. First construction plans for such a production line were already drawn on wrapping paper during captivity in the Second World War. In 1949 they settled in Holzminden and founded the company Müller + Müller. In these days, the first production line for tablet glass vials consisted of an old bedstead, bicycle chains and gears. The company grew slowly but steadily. Karl-Heinz Müller was the second generation in the family business who lead the company from 1949 to 1999. The company Müller + Müller is his lifetime achievement.
"We have managed to maintain the entrepreneurial spirit of our founders by continually developing our business," said Dr. Hubertus Müller-Stauch, who represents the third family generation and lead the company during the past 26 years. With the largest investment in company history in 2007 he clearly positioned the company as a leading glass vial supplier to the pharmaceutical industry. Florian Müller-Stauch is the fourth family generation and entered the company in the beginning of 2015. Therefore, it can be clearly said that Müller + Müller is a company with a long tradition.
Nowadays, Müller + Müller is a leading producer of primary packaging from tubular glass for the global pharmaceutical industry. A clear focus and more than 90 years of experience in the field of vials made of tubular glass show that the company is well-positioned as a reliable and growth-oriented partner for its customers. At the production site Holzminden (Lower Saxony), about 300 million vials are manufactured on modern production lines annually. The production meets the highest quality requirements in accordance with DIN EN ISO 9001: 2008 and ISO 15378: 2011 (GMP standard).
For the active participation of the 90-year history of Müller + Müller, the management thanked all employees in the form of an anniversary celebration.
Back