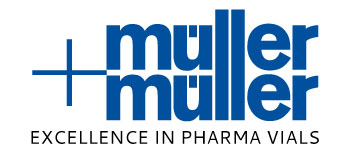 In order to meet the demands of a constantly evolving market and accompany the company's evolution and mission, Müller + Müller updates its corporate identity.
Müller + Müller is a leading producer of primary packaging from tubular glass for the global pharmaceutical industry. A clear focus and more than 90 years of experience in the field of vials made of tubular glass show that the company is well-positioned as a reliable and growth-oriented partner for its customers. At the production site Holzminden (Lower Saxony), about 300 million vials are manufactured on modern production lines annually. The production meets the highest quality requirements in accordance with DIN EN ISO 9001: 2008 and ISO 15378: 2011 (GMP standard).
Claim of the new corporate identity was to create a consistent corporate image, which underlines the clear focus of Müller + Müller in the area of "vials made of tubular glass for the pharmaceutical industry". To achieve this goal the comprehensive slogan "Excellence in Pharma Vials" was selected and the corporate design was consistently updated. The new corporate design includes a new website as well as all other promotional materials of the company. The traditional and well-known logo of Müller + Müller has been retained.
In addition, Müller + Müller is now able to offer a half-yearly newsletter for all stakeholders. The aim of the newsletter is to inform you about the latest developments of the company and current developments in the field of primary packaging made of tubular glass.
Back