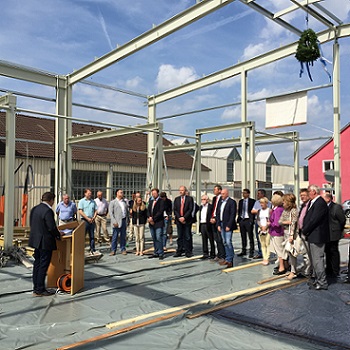 Müller + Müller constructs a new production hall, covering an area of 465 square meters, for an ultramodern siliconization process for glass vials and a new packaging and pallet storage. The topping-out ceremony for the new production hall took place in July.
With the construction of the new siliconization line Müller + Müller will quadruple its output quantity for siliconized pharmaceutical glass vials. Silicone treatment is a proven method for the internal coating of glass surfaces in the pharmaceutical sector. The inner siliconization of the glass vial ensures optimal emptying of the vial through its hydrophobic properties. In addition, it prevents products from sticking to the internal surface of the glass vials giving the glass a perfect transparency.The most modern siliconization process at Müller + Müller will ensure best possible results with a reduced amount of silicon in the glass vial and takes place in a clean room class 8 in accordance with ISO 14644-1.
In addition, a new packaging and pallet storage for about 320 pallet spaces will be constructed. Thus, workflows are designed to operate more efficiently and sufficient storage facilities are created for future growth of the company. Moreover, Müller + Müller invest into two new converting lines for pharmaceutical vials.
"This investment is another milestone for the future development of our company" explains Dr. Hubertus Müller-Stauch. At the topping-out ceremony he used a quote of the Little Prince by Antoine de Saint-Exupéry: "You cannot look into the future, but you can lay the groundwork for some future - because future can be built".
Please get in touch with us to speak about possibilities for vials made of tubular glass!
Back