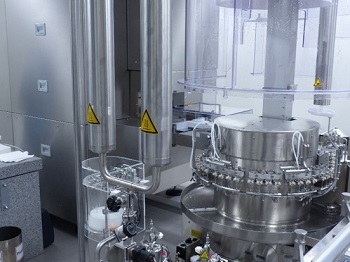 The construction of an ultramodern siliconization line with connected clean room and an additional warehouse for packaging material is completed.
The new siliconization line is the result of excellent teamwork and represents a consistent step in the further development of the company Müller + Müller. This investment underscores the clear focus of the company on "pharmaceutical vials". Müller + Müller is proud to offer customers a broad and quality-oriented portfolio within the field of tubular glass vials for pharmaceuticals.
With the construction of the new siliconization line Müller + Müller will quadruple its output quantity for siliconized pharmaceutical glass vials. The vials undergo an ultrasonic bath wash, external/internal washing and a spraying unit for the inner surface silicone treatment. Immediately after the siliconization unit, the vials are handed over into a drying tunnel. The packaging takes place in a clean room class 8 in accordance with ISO 14644.
The high precision of the ultramodern siliconization line in combination with a thoughtful quality policy allows an optimal siliconization with minimal silicon in the glass vials.
For further questions or inquiries, please contact This email address is being protected from spambots. You need JavaScript enabled to view it..
Some impressions of the new building…